This headline may sound like a bad joke at first – or maybe like news from an unhinged parallel universe. But unfortunately, this is actually happening in Russia right now. Malicious propaganda and conspiracy theories promoted by the Russian government prompted multiple residents of city of Belgorod in Russia to poison pigeons. These ordinary Russian citizens believed that the birds could spread viruses created by numerous American biological labs in nearby Ukraine.
It should be noted that the claim about dozens of American biological laboratories operating in Ukraine and researching methods of infecting Russians by viruses transmitted by birds are actively replicated by Russian propaganda. Few people outside of Russia believe this. However, in Russia this claim has found fertile ground.
Both regular propagandists and government officials are actively engaging in the creation and dissemination of this propaganda. For example, on March 10, 2022, the Commander of the Radiation, Chemical and Biological Protection Troops of the Armed Forces of the Russian Federation, Lieutenant General Igor Kirillov stated:
"Ukrainian laboratories have been researching the possibility of spreading particularly dangerous infections by migratory birds."
Indeed, the United States and Ukraine cooperate on biological research and on measures for the prevention of the spread of viruses (read about this here on the website of the American Embassy in Ukraine). However, there is no evidence whatsoever that the Ukrainian-American cooperation is aimed at creating, testing, or improving biological weapons. There is also no evidence that such activities would be directed against Russia.
But let us get back to the city of Belgorod: On March 17, 2022, a handwritten notice signed by the "ground floor residents" was placed at the entrance of a multi-story residential building. This is the full text:
"Attention! For more than 30 years, 36 US laboratories in Ukraine have been infecting birds and rodents with diseases (plague, cholera, etc.) directed at us (Russians, Khokhols*, Armenians, Jews, and others) Please! Do not attract pigeons with bread! Keep your (and my) family safe from infection."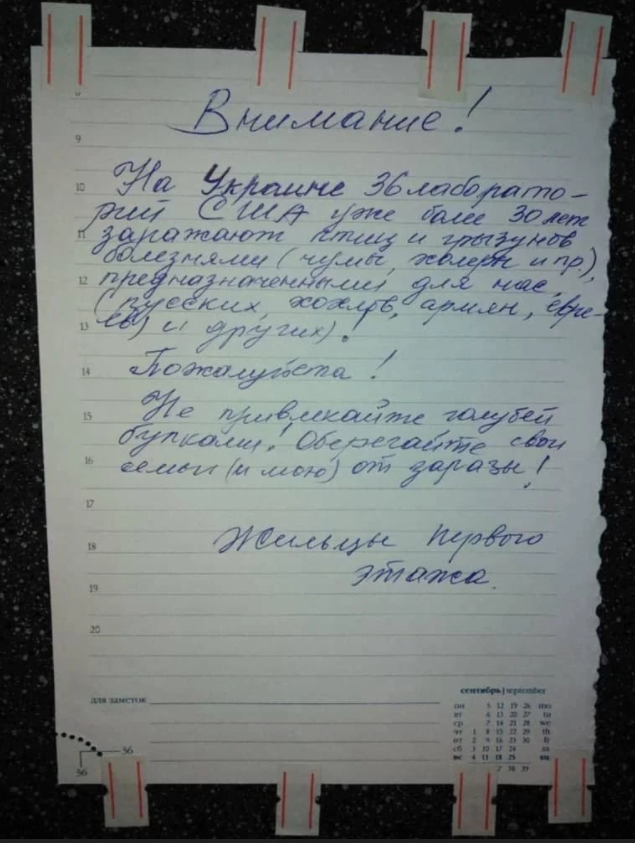 This case is a classic example of the impact of long-term aggressive propaganda on the psyche of the population. Systematic psychological pressure caused a certain part of the population to not only to believe in propaganda, but also to act on it.
If the large-scale information and psychological pressure on Russian citizens continues, we believe that in the foreseeable future not only birds but also humans in all Russian cities will fall victim to Russian propaganda.
*"Khokhol" is a pejorative word widely used in Russia to refer to Ukrainians.